Supporters of Sin 13
Sin 13 is an independent series! We work on much lower budgets than even a tiny mainstream tv show. This gives YOU the opportunity to get your product seen and associated with a television show, at a cost far below what you would have to outlay to be associated with any mainstream show.
There are sponsorship opportunities for your marketing program on the Sin 13 television series and on specific episodes, but spots are limited, so act now!
To learn complete details, use our contact form and include your phone number and the best time(s) to call you, and a team member will reach out. However, here are current opportunities:
Premiere Event Sponsor - Sin 13 will premiere with a live screening in Los Angeles, with a globally available simultaneous live-stream. Sponsors will benefit from repeated views of the event and news over a period of at least 6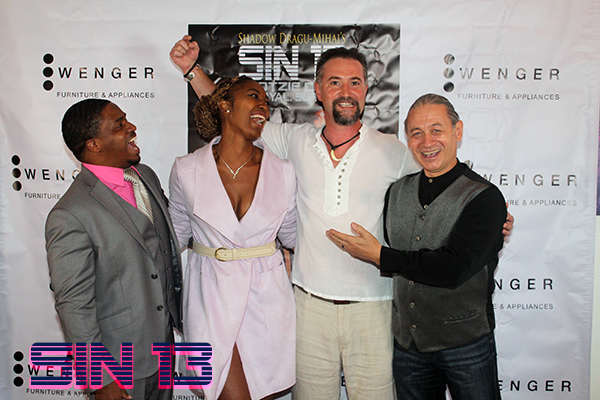 months. For the Premiere event sponsors, we have the following opportunities:
1. Product Placement In-Show. Upcoming Sin 13 episodes will permit Product Placement. On-camera product placement opportunities are available for those products and brands which integrate well and naturally into Sin 13 scripts. Specific product opportunities will depend on script and story. However, consider apparel, survival gear, food and drink, jewelry, vehicles. Right now the production team is preparing now for the first season of Sin 13 and are open to many ideas. Contact the team now to learn more!
2. Promotional Partners: Cross promote by offering discounts to Sin 13 audience, or offering a discount on Sin 13 shows to your customers!
3. Step-And-Repeat Sponsorship: Sin 13 has live special events and nlive red carpet premieres each season - you can have your logo on the photo wall, where it will be visible in every one of the publicity photos taken for and by the stars, press and public. This is great long term, repeated exposure for small cost. There are a limited number of spaces on the step-and-repeat wall, and it's inexpensive to be one of only a couple, or even the exclusive sponsor on the wall.